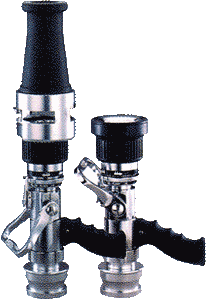 Water / Foam Pistol Grip Nozzle (Jet / Fog)
This nozzle provides a combination fog and straight stream flow. Flowrate and flow pattern can be changed without shutting down. It is available in heavy duty bronze construction and also lightweight aluminium alloy construction. Flowrate can be adjusted from 150LPM to 460LPM. This nozzle provides excellent discharge in the application of AFFF and non-protein foam. Ideal for use with foam inductors.

Aeration foam tube FOS011-LA-STD-NA is available to enhance expansion of foam solution and also deliver a longer and heavier foam blanket (expansion rate 8-1). Quick and easy attachment method is provided.

Back